Hi there,
We spent this week building several serverless nanoservices and publishing them to AWS Serverless Application Repository (SAR). Let's get on with what we built last week!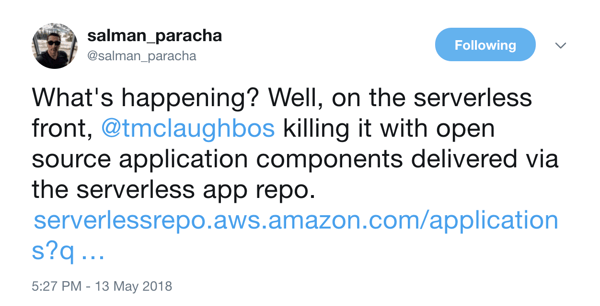 Building A Serverless Slack App
This week we started building a small project to get AWS Health notifications delivered to a Slack channel of ours. Realizing how useful publishing more data sources to Slack would be, we applied a nanoservice approach to solving the problem.
We've published the following services to AWS SAR:
We first constructed an application to deliver AWS Health notification messages to one of our Slack channels. (We still don't have region and global health status but this is a start.) Next, we reused James Hood's Twitter event source to construct another application to deliver #AWSWishlist tweets to our Slack so we can keep up with what users want.
What makes a nanoservice different? It's code and infrastructure, that can be versioned, and can be combined with other nanoservices to build applications. The Twitter event source was originally used to build a web application and we used it to instead build a Slack app. We think this reuse of code and infrastructure similar in a manner more like a library is pretty novel and one of the innovations serverless will unlock.
Does this sound interesting to you? Feel like building your own Slack app? Do it and tweet using the hashtag #ServerlessSlackApp to show it off!
Closing
I'm Tom from ServerlessOps and we provide services to make you successful with your DevOps transformation and enhancement through AWS serverless adoption. Ask us about our training and advisory services.
Also let us know what you think of this week's Cold Start using the 👍/👎 links at the end of this email!
Cheers,
Tom at ServerlessOps