Hi there,
Serverless DevOps Series
Last week with our Serverless financials and FinDev post we hinted there's more to come. That's because we're expanding on our Serverless DevOps: What do we do when the server goes away? blog post. Many of you have already read it (and possible found us from it) but it's become a real #longread!
We've been busy working hard at expanding that into a full series the past 3 months! Last week's blog post is a later chapter but it fit perfectly with some recent twitter conversations.
This week we present to you:
Serverless DevOps: Where Does Ops Belong?
Also, notice we keep saying chapter? More on that later. 🤔
AWS Community Day New England
This past week was AWS Community Day New England. We had a great time there and there were not one but two serverless talks. One by Allen-Michael Grobelny of AWS and a second by Ben Kehoe of iRobot. A big thank you to the AWS Boston, Portsmouth, and Connecticut community groups!
Boston Serverless Workshop
A reminder that if you're in the Boston area we have a free two hour training the evening of October 17. Tickets are going fast! Make sure you signup for our AWS Serverless Up And Running workshop.
A big thank you to Serverless, Inc as a food and drink sponsor and local company Kyruus for providing a teaching assistant. (Kyruus is hiring too!)
LISA Conference
If you're attending USENIX LISA and are a member of an underrepresented group in tech, reach out if you'd like to discuss career and pay advancement. My career progress and salary history is an open book to you to help as a data point as you navigate your career.
Also, our keynote talk is taking shape. (Actual slide shown.)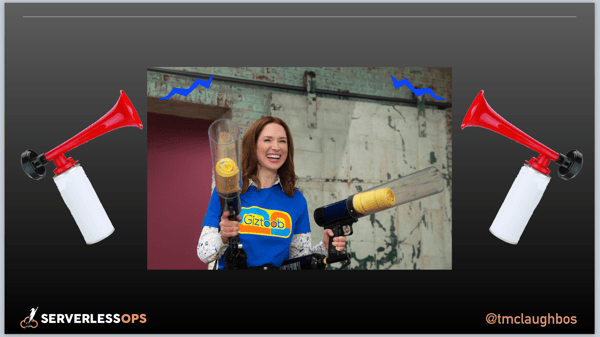 If you're in the Nashville area and know where we can obtain a t-shirt cannon that info would be mighty appreciated.
Closing
I'm Tom from ServerlessOps and we provide a range of services around DevOps transformation, AWS migration, serverless training, and startup cloud operations. See our services to learn more.
Also let us know what you think of this week's Cold Start using the 👍/👎 links at the end of this email!
Cheers,
Tom at ServerlessOps